Martin's Properties adds retail park to its £375m portfolio.
Martin's Properties have successfully completed the purchase of Hadden Hill Retail Park, Didcot from IM Properties.
The retail park extends to approximately 41,000sq ft and is let to retailers B&M, Halfords and Carpetright who have all recently committed long term futures to the park. An established Tesco Superstore is adjacent.
The acquisition will be Martin's first retail park purchase and is the latest in a series of moves from the London-based developer and investor to diversify its portfolio. Last year, it bought its first commercial property in Crawley and a Travelodge in Hampshire.
"Yields across the retail warehousing sector have softened significantly over the past 18 months and we believe the market is undervalued where rental levels have already been rebased," said managing director Richard Bourne.
Commercial asset manager Brook Stotesbury added: "The acquisition is expected to deliver solid returns with the capacity to drive additional value through active asset management."
The price paid was £8.25m reflecting a yield of 7.6%.
Edgerley Simpson Howe represented Martin's Properties.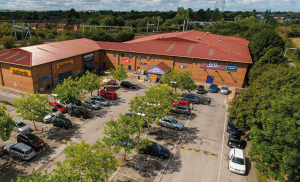 Pictured: Hadden Hill Retail Park, Didcot